This site is designed to help Canadians maximize their enjoyment of the Snowbird lifestyle and minimize the risks, when living part-time in the U.S., Mexico, and other countries.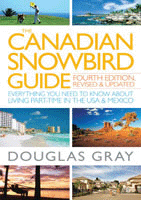 Click Here
The contents of this site will help you save money in many different ways. It will also provide you with peace of mind by providing you with streetsmart tips, insights, and practical advice. You will find this site contains invaluable information, helpful tips, and guidance on all aspects of the snowbird lifestyle. This will include special issues such as: understanding the snowbird lifestyle, popular snowbird locations, tax planning, legal issues, housing options, dealing with US assets, filing wih the IRS, retirement and financial planning, living wills, estate planning, out-of-country emergency medical insurance, buying real estate, selecting professional advisors, and much more. By applying informed decision-making, you can make the right decisions that suit your needs, goals and comfort level, and avoid the classic pitfalls. This site was designed for Canadians to provide objective, practical, and helpful information to assist your sound judgment.
The site contains useful checklists, charts, articles, educational resources, books, sources of information and glossary. It also includes a free monthly email newsletter.
Your candid feedback for improvement is welcomed. Thank you for visiting our site!